Formed in 2001 by myself and jazz saxophonist Tim whitehead, the group quickly established a reputation for cross-genre work in a range of diverse situations. The ensemble consists of a flexible group of players and improvisers from the world of new music and jazz.
We were awarded the Peter Whittingham award for 'innovation in jazz' in 2001 and were able to release our debut album 'Tides' shortly afterwards at Ronnie Scotts, London. The album received instant critical acclaim with reviews from all quarters of the press.
In 2008 we teamed up with the then Poet Laureate for Children, Michael Rosen making a full-scale musical setting of his two books of nonsense. Myself, Tim and pianist Liam Noble collaborated, taking several of the poem each to make a musical setting with. The resulting work for 9 players was premiered at the Queen Elisabeth Hall in November 2008 to a packed house. The work was subsequently toured throughout the UK at all the major venues funded by the Arts Council of England.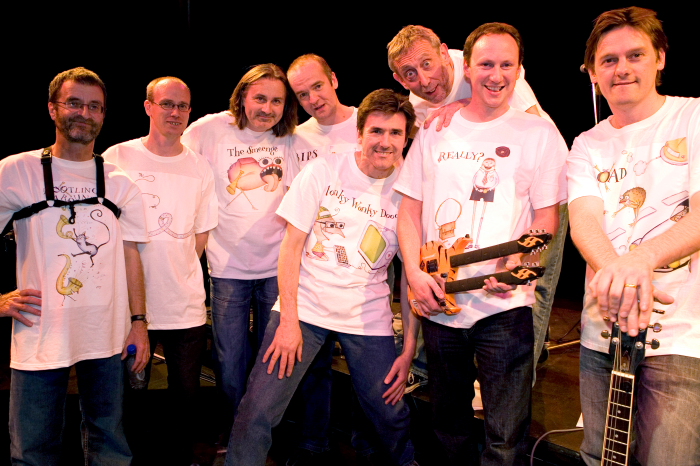 Securing its position as a pioneer of music for children the group then continued its relationship with Michael Rosen with 'Centrally Heated Knickers. Taking his book of the same name a full-scale hybrid theatre production was mounted combining science, poetry, dance, puppetry and music. Tim and myself once again created the music and Tony Graham directed. Michael himself performed every performance alongside a wonderful team of Tim Whitehead (winds), Dave Preston (guitars), Jim Hart (percussion and drums) and Maisie Whitehead (dance, mime and puppets), who in turn brought every element to life with their improvisational skills. With generous funding from both the Arts Council of England, and the Wellcome Trust the show was performed 48 times on a national tour in 2013/14. The project involved extensive education work alongside the live performances and has its own website.
For further information watch the documentary about the making of 'Centrally Heated Knickers'
REVIEWS:
'Some of the most beautiful music you will hear this year … lithe and buoyant …. has the hairs rising on the back of your neck.' (Birmingham Post 2003)
'Here are wondrous ideas, perfectly executed and with exquisite sound.' (BBC Music Magazine 2003)
'Intensely sad, celebratory, ruminative. Thoughtful and impressionistic contemporary music that rewards repeated listenings.' (Yorkshire Post 2003)
'A dark, cinematic, gorgeous thing filled with strange grooves.' (Time Out 2003)
'Jazz and classical music should go together more often if the new album 'Tides' is anything to go by. Intelligent, confident, accessible … a labour of love rather than a product.' (The Guardian 2003)
'A very English, very appealing fusion.' (The Times 2003)
'Unusually colourful and seductive depths … created by Riley's restless sense of personal odyssey.' (Jazzwise Magazine 2003)
The follow up album 'Inside Covers' saw the ensemble collaborating with a range of composers on cover versions working with singers Kathleen Willison, Jenni Roditi, Errolyn Wallen, Claron McFadden and Gwyn Jay Allen. An extensive Arts Council rural tour followed, as well as several performances at the South Bank Centre, London.
'… treasure troves of harmonic and rhythmical possibilities … moon-bright clarity … an intricate web of 'cello, vibraphone and trip-hop inflected drum machine … intimations of chaos … mischievously dissonant attack … intriguing sound collisions …a fearless lucky dip of a concert.' (The Guardian 2004)
'Modern pop is now a legitimate source for jazz. The trend reaches a peak with the album Inside Covers by the Homemade Orchestra. The devilishly inventive arrangements bring unsuspecting depths to familiar songs. This attempt to expand the range of jazz is an unreservedly good thing.' (The Metro 2004)
'Deftly interweaving scored and improvised music, Inside Covers is an affectionate and at times overtly tongue in cheek homage to popular song in the twentieth century. Mining a characteristically British seam of surrealist humour, it prompted me to ask when the last time a CD had made me laugh out loud.' (Jazzwise 2004)
'The textural inventions are fascinating – classical singing and quietly swaying string parts, humming drones and chiming vibes. A brave enterprise.' (The Guardian 2004)
'An audacious venture … tantalising new territory …' (The Times 2004)